At Denver Insurance we are focused on protecting you!
We truly are your one-stop-shop insurance broker for all of your insurance needs.
We are dedicated to you and YOUR varied needs. We don't just represent insurance companies, much like all the insurance agents who work for large insurance companies. We represent YOU first! Our Mission is to provide you with affordable HOME, LIFE, BUSINESS & AUTO insurance with superior customer service, and Mile High standards in expertise. A Denver Insurance policy may be one of the best financial decisions you can make for your family.
This is our #1 priority: We take pride in making you a happy, life-long client.
OUR INSURANCE COMPANY AT A GLANCE
Denver Insurance Team LLC is dedicated to you and your varied needs. Our priority is to our clients. We take pride in making you a happy, life-long customer.
We are Always Taking Care of You!
Insurance can be complicated. The terminology is unique, but don't worry, we go over all your insurance questions and concerns with you. That truth lives at the heart of our customer service. We are considered a specialty insurance broker because we are independent insurance brokers that can write unique insurance policies on specialty items that larger, captive insurance companies cant.
A LIST OF THE TYPE OF INSURANCE COVERAGE WE PROVIDE FOR YOU
Homeowners Insurance
Renters Insurance
Rental Property Insurance
Motorcycle Insurance
Boat Insurance
RV Insurance
Life Insurance
Commercial Insurance
Contractors Insurance
Restaurant Insurance
Unique Policy Insurance
Sewer Insurance (Homeowners insurance)
Wedding Insurance
Jewelry Insurance (Homeowners Insurance)
Umbrella Insurance
Event Insurance
Pet Insurance
Custom Insurance Solutions
So Much More…
YOUR BENEFITS WITH US
Same-day auto insurance – normally within a few minutes
NO Broker Fees
Customizable insurance planning
Local insurance agency – We are right next door to talk to.
24/7 assistance (Via phone, email, text, or chat service)
Exclusive insurance discounts when you bundle
We represent you! Not the insurance company/policyholder
Friendly, helpful, and knowledgeable staff
You are given one personal, hands-on insurance agent, who takes care of all your needs. You will never be handed off to various specialists and departments.
Safety tips for you and your family
FREE business consultations with commercial/business insurance
Life insurance explained
Exclusive discounts on car insurance
A member's only online resource
Pressure-free sales and service
Local Denver Homeowners Insurance Team
Local Denver Auto Insurance Team
Why do business with Denver Insurance?
Unlike a captive or direct insurance company who only offers their own proprietary products, our agency is 100% independent of any one company. Many insurance consumers don't fully understand just how important that really is.
When it comes to something as important as insurance, it's imperative that you work with an agency that has an in-depth knowledge of multiple insurance products, companies, and guidelines — not just one.
At the end of the day, what separates one agent from another, is their ability to proactively service their policyholders, and their knowledge of the insurance industry, products, and different situations that may present themselves to their clients.
Independent Agent Vs. The Rest
Here is a quick comparison of the differences between an independent agency like us, and the various other types of companies that are out there: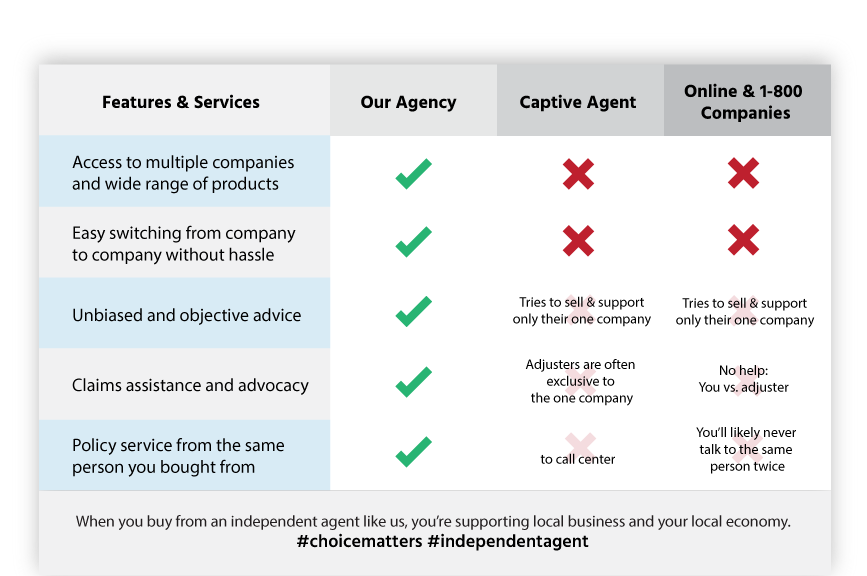 If you'd like to get started with a complimentary quote and/or policy review, we'd be happy to help you any way we can. Simply complete the fields below to get started online in a matter of seconds.
We appreciate the opportunity to help you, and look forward to servicing your insurance needs! Feel free to call us directly if you have more detailed questions.
We are Proud to be a Part of the Denver Community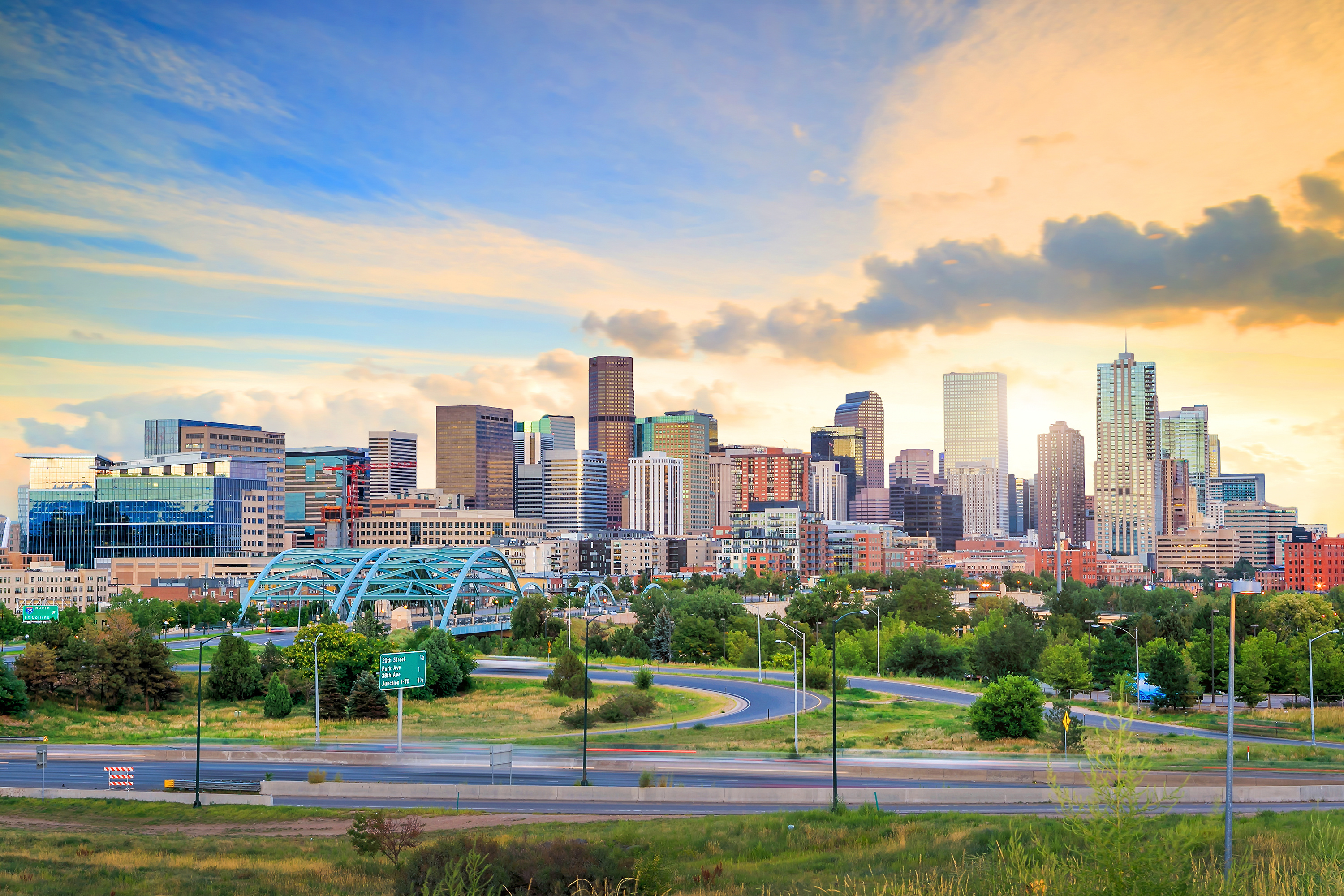 As a locally owned and independent insurance broker in the great city of Denver – the capital of Colorado and the most populous city in Colorado (estimated population of 704,621). We are located in the South Platte River Valley, west of the High Plains and east of the great Front Range foothills of the Rocky Mountains. Our office is located right across the street from the Pepsi Center Arena in the Denver downtown district, east of the confluence of Cherry Creek.
FUN FACTS ABOUT OUR CITY OF DENVER:
The City of Denver is named after James W. Denver, a famous governor of the Kansas Territory
The official elevation of Denver is exactly 1 mile (5,280ft) above sea level. This why it's called the "Mile High City". Not because we were one of the first states to legalize marijuana
Denver, Colorado is the 105th Meridian West of Greenwich, which is actually the longitudinal reference for the Mountain Time Zone. This passes directly through Denver Union Station
Denver is one of the fastest growing cities in the U.S., growing 17% since 2010
We Love Being a Colorado Insurance Broker
We believe Colorado is the greatest western state in the U.S.. Colorado features diversity in landscapes like: desert, rivers, canyons and (of course) the beautiful snow-covered Rocky Mountains that is central to our outdoor enthusiast playground. Our featured national parks in Colorado are Rocky Mountain National Park (most popular), Mesa Verde National Park which feature the great Ancestral Puebloan Cliff Dwellings. These are all things you must go see in-person, and please get out of your car and explore. Our insurance company is a strong supporter of the great Colorado outdoors.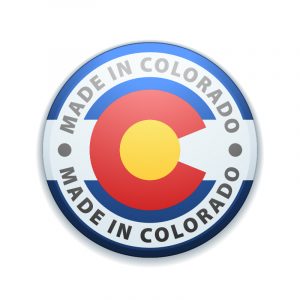 FUN FACTS ABOUT COLORADO:
We have an expansive outdoor sandbox! Colorado is the 8th most extensive state (largest area) in the U.S.
Colorado is the 21st most populous state in the U.S. with an estimated population of 5,695,564 Coloradans, as of 2018
The state was named after the Colorado River, which Spanish explorers called "Rio Colorado" because of the red silt the river carried from the great Rocky Mountains
Colorado is known as the Centennial State because it became an official state of the U.S. exactly one hundred years after our Declaration of Independence
Colorado was one of two states to legalize cannabis with the passing of Amendment 64 on November 12th 2012.