Does it seem like driving has become more expensive in Colorado in recent years? You're not alone and your insurance cost likely has increased. Since 2014, we have seen more new cars on the road, and those cars are driving more miles than ever. The severity of traffic-related accidents has worsened causing insurance claims for bodily injury to become more expensive. Together, these factors are increasing the cost of insurance for just about every car owner.
More new cars: New car sales hit a new record in 2015, just under 17.5 million vehicles sold, in increase of 5.7% from 2014, according to PricewaterhouseCoopers. That's great for the economy! The new safety, technology and convenience features get better every year. Still, new cars can be more expensive to repair or replace. All that technology doesn't come cheap, though, and the cost of accident repairs is also increasing.
More miles driven: Encouraged by lower gas prices, those cars are driving more miles. Lower gas prices make vacations more affordable for families making the trip to the mountains or to see distant relatives. U.S. drivers drove 3.1 trillion miles in 2015, according to the Federal Highway Administration. That's another record, and it's also highest number of miles driven since Americans logged 3 trillion miles in 2007. Of course, the more miles driven, the greater the potential for accidents.
Traffic deaths increase: Unfortunately, the U.S. registered a 7.2 percent increase in annual traffic-related deaths from 2014 to 2015. The largest increase since 1966. It's a heartbreaking trend that's both dangerous and costly.
Half of those who died were not wearing seat belts
A third of the deaths were due to drunk drivers or speeding
At least one in 10 involved distraction.
Medical costs rising: From 2005 to 2013, the average cost for a bodily injury liability claim rose 32.1% according to the Insurance Research Council. These increasing costs are due to a number of factors including: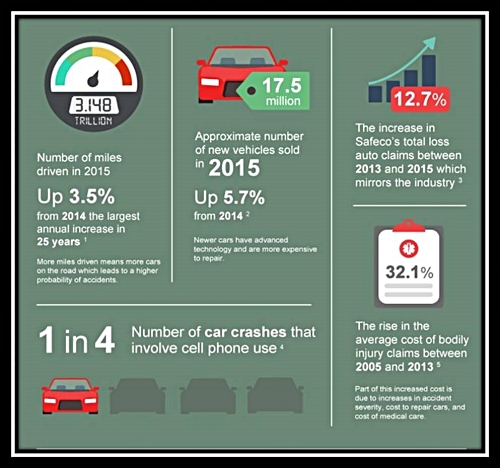 The rising severity of accidents
The rising cost of medical care
Higher speed limits
Distracted driving
Distracted driving: Using a mobile phone while driving is restricted in many states but cell phones continue to be a major cause of accidents. Cell phones have brought greater awareness to the larger category termed "distracted driving," which is any activity that takes the driver's attention away from the road. Distracted driving contributes to up 16 percent of the nation's fatal crashes, about 5,000 deaths annually.
Distracted driving includes:
Using a cell phone
Texting while operating a car
Eating while driving
Operating your car's navigation system
Conversing with passengers.
All of these rising costs and dangers impact your auto insurance rate. You might see the cost increase in your insurance bill and be tempted to reduce your costs by reducing your insurance coverage. But, at a time when the risk of costly accidents has increased, it may not be wise to save money by undercutting your protection.
As an independent insurance agency, Denver Insurance LLC is dedicated to helping you reduce your insurance costs without sacrificing the protection that you need. Our insurance agents know about discounts that can benefit you. Discounts are everywhere! Have a conversation with one of our licensed insurance professionals. Denver Insurance LLC can help you save money without sacrificing your security. Contact us today to get a free insurance quote!