Rain and Hail and Colorado weather has been notably fierce lately. Recently we've seen it becoming more extreme and more expensive than ever, with four reports of tornadoes in the state in one day. One town in particular, Bethune, Colorado experienced record-breaking hail on the same day, measuring as the largest hailstone ever recorded in Colorado. Storms like these make rain and hail insurance claims on both auto insurance and homeowners insurance a big topic in Colorado.
We've had some Record breaking hailstorms in Colorado this year
The maximum diameter measured from Tuesday 13 August was 4.83", breaking the previous record of 4.5". To put that in perspective, that's about the size of a grapefruit, and pictures from the same Tuesday showed some hail that might have been even bigger.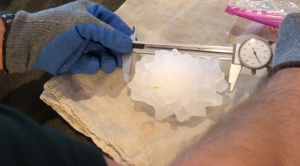 Bethune, near Burlington, wasn't the only place to suffer the weather, however, with Longmont, Frederick, and Firestone all suffering from thunderstorms and hail reported to be larger than ping-pong balls.
Needless to say, the tumultuous weather has already caused plenty of damage, and many Colorado residents are worried that even more might be coming soon. All of this bad weather makes rain and hail insurance claims as one of the most important things you can buy to help cover some of the costs caused by hailstorms. To help you get a better idea, let's take a look at some Colorado hail damage statistics.
What do the stats say about rain and hail damage insurance claims in Colorado?
Though the worst of the weather might be over, hail is far from an uncommon occurrence in Colorado. In fact, Colorado sees the second highest rate of rain and hail insurance claims, being number 2 in number of claims for rain and hail damage between 2013-2015, only behind Texas, with 493 major hail events to Texas 508. Colorado and the other top 10 states accounted for two-thirds of all hail claims during this time.
Overall, Colorado is ranked 4th in homeowners insurance in 2017.
These storms mostly occur from mid-April to mid-September, and Colorado sees the worst of it due to the fact its Front Range is right in the middle of the "Hail Alley", which sees hail most frequently in the US, and more often than most of the world. In fact, there are usually three or four hailstorms causing damage more than $5 billion in insured damage.
How costly are hailstorms in Colorado?
Denver Metro has seen the worst of damage in Colorado's most costly hailstorms. In 2017, one hailstorm caused $2.3 billion in property damage, while another in 2009 caused $767 million in damage. Colorado Springs, CO Front Range, and Pueblo also rank highly in terms of most costly storms in the state's history. Overall, hail has caused more than $5 billion worth of damage, and that's only insured damage.
This means that one-half of the average homeowner's insurance premium contributes directly to hail and wind damage costs. That is, in large part, why Colorado's homeowner's insurance and auto insurance is somewhat more expensive in Colorado than the national average.
Is hail covered by your homeowner insurance?
Given that Colorado sees a lot of hail, most insurance providers know that coverage against hail damage is essential. As such, it's included in most standard homeowner's insurance policies as standard. However, that's not always the case. It's always recommended that you ask what is and isn't covered in your insurance policy, to know the coverage limits, and if they increase automatically over time to match inflation.
It's also recommended that you check whether your policy ensures your home will be rebuilt the way it was before the damage, and whether or not the policy covers vintage materials, offers actual cash value instead of replacement cost, and whether or not the policy covers your roof. It's essential that you understand how, exactly, your insurance provider will cover you in the event of hail damage so that you're not caught footing the bill the next time Colorado breaks a record.
How to make a Hail Damage Roof Insurance Claim
Should your property get caught in the next hailstorm that comes through the state, you want to ensure you do what you can to make sure your insurance provider covers it as they're supposed to. Of course, the first step is to make sure, in advance, that rain and hail damage is covered, including hail damage to the roof. Otherwise, here are the steps you should take when you discover damage to your home:
Assess the damage across the home, including the garden, trees, and plants. If they're damaged, it's a sign there may be damage to the roof as well.
Protect the property from more damage by covering broken windows and holes in the roof to prevent water from coming inside the home.
Get in touch with your insurance provider or insurance agent as soon as possible. Make sure to do the same for your car if you have the appropriate policy.
Your agent or insurance company might request you to write an explanation of what the damage is and what caused it. Submit this claim as per their instructions.
Keep the receipts for any repairs and services you need, then submit them to your insurance provider so they can reimburse you properly.
After you make your claim, and the insurance provider surveys your property, ensure you find a well-reviewed, reputable roofing company or other necessary contractors to make repairs to your home. Do beware of out-of-town roofers that tend to follow storms around to offer sub-par services to people desperately in need of repairs. Ask your Denver Insurance Agent for credible roofers, we know many of the local roofing companies that are accredited by the BBB
Don't allow anyone but your insurance adjuster and roofers to step on your roof, as they can increase the cost of repairs.
After your claim is finished and you're reimbursed, consider adding hail resistive and impact resistant roofing materials to prevent the same kind of damage next time. Hail resistive shingles could provide a discount on your home insurance and also prevent future damage, saving you the deductible you'd pay on a home insurance claim.
Don't let hail batter your finances too
Colorado has likely not seen the last of its expensive hailstorms, though the season for it is at least over for this year. Still, that's no reason to be complacent. Make sure your homeowner's insurance offers the coverage you need and be ready to make a claim the next time a storm comes through the state. The sooner you can act, the easier it will be to cover your costs and repair the damage