Even though we're into insurance and we always love protecting your belongings, we think it's could be more memorable to give experiences this year. And if you live in or are visiting Colorado, you are lucky because this is truly one of the coolest states to spend the holidays. 
So to help you, we've listed 8 of the amazing things your family can do in Colorado for a magical Christmas. You may not have heard about these attractions and activities before, but they are all family-focused and they all offer something special and interesting to make your holidays memorable for the whole family. Read on to find out more.
Blossoms of Light at The Denver Botanic Gardens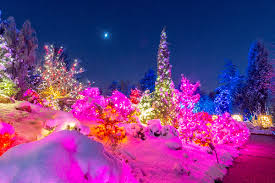 At Denver Botanic Gardens has a Blossoms of Light Show on display, which is an absolute stunning attraction o
f light and color that really dazzles the senses and offers a holiday attraction that the whole family can enjoy. Of course, the Botanic Gardens are always worth a visit, but Blossoms of Light is very family-friendly too, and it's an established holiday tradition for many families in the area already. Maybe it can become one for yours too.
Experience Dog Sledding
Dog sledding is a bucket list item for many people, so why not check this one off during this holiday season? There are lots of mountain towns in Colorado and many of them offer dog sledding experiences. These tours can be a lot of fun for everyone and they're perfect for this holiday season with record snowfall in the high country.
Ride The Polar Express
The Polar Express Train Ride allows you and your family to step onto the famous train that has been recreated from the beloved Christmas film. If your kids have always enjoyed that animated classic, this is the perfect opportunity for them to experience it first hand. It's taking place at the Colorado Railroad Museum and you can contact them for more information about tickets. It'll be an experience your kids won't forget in a hurry.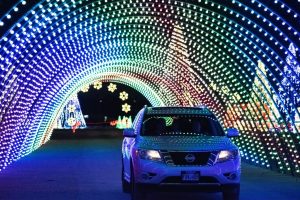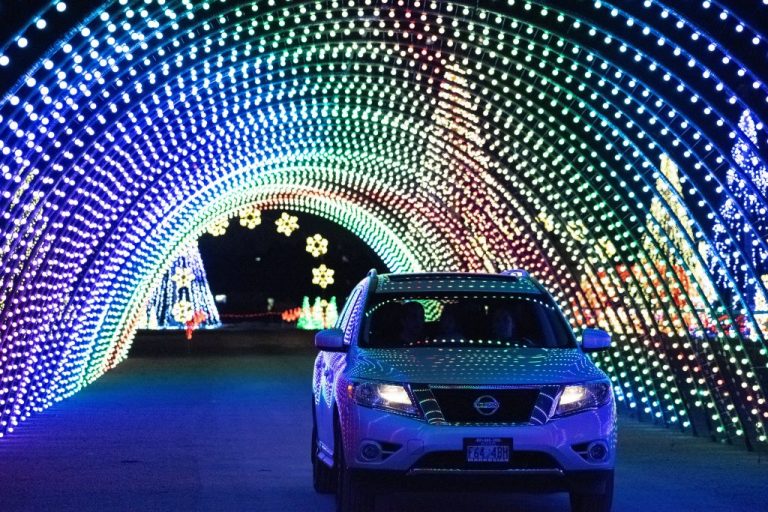 Denver Drive-Thru Light Shows
Denver's drive-thru light show is back for another year. It allows you to drive through a mile-long route of synchronized lights that you and your family can marvel at. There are 1.5 million LED lights used in total and they create displays that capture the imagination and are sure to keep your kids entertained. It's already a festive favorite for families in Colorado.
Visit Iron Mountain Hot Springs
Iron Mountain Hot Springs is a fantastic location for relaxing. Its location in the mountains means it offers some of the most stunning views you'll find anywhere in Colorado, and you'll have the chance to relax in a hot water pool, while the temperature outside is freezing. This is one of the most authentically Colorado experiences you can have this winter.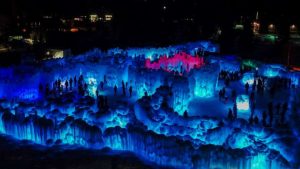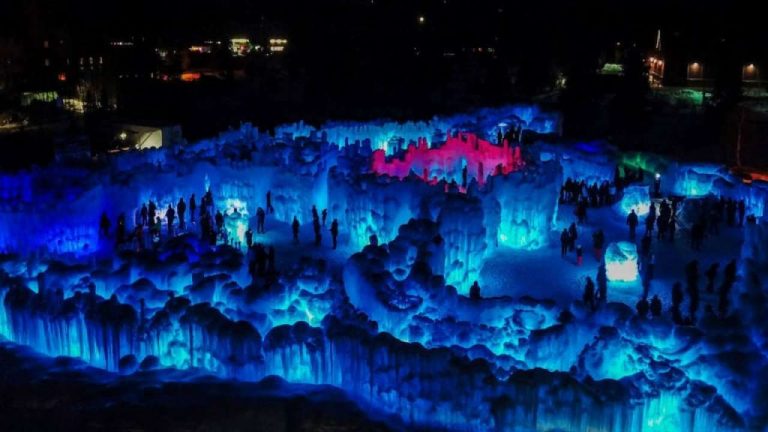 Ice Castles
This frozen attraction is constructed using hundreds of thousands of icicles and they're put together by professional artists. There are LED sculptures, fountains, slides, tunnels and much more to explore. It's fun for the whole family and there's so much to see and enjoy while you're all here. Whether you want to take part in the activities with your family or simply enjoy the castle's design, you'll have a great time here.
See the Mile High Tree
The Mile High Tree is something that you won't want to miss out on while you're in Colorado. It's 110-feet tall and is truly something to behold. It's incredible to look at and you can even step inside it. It's located on the Denver Performing Arts Complex if you and your family want to head on down and take a closer look at it for yourselves. It's free to see it and step inside, so you won't have to spend any money at all.
Explore the Rifle Ice Caves
This is Colorado, and you have to have a sense of adventure. The Rifle Ice Caves are located in Rifle Falls State Park. Now is the best time of the year to see them up close. Who has the opportunity to go caving for the holidays? Coloradoans, that's who!
If you want to make a more memorable holiday season in Colorado this year and give experiences over gifts (why not both?), these are the exclusively Colorado activities we recommend checking out. Of course, there are lots of other ways to experience a magical Christmas, and I'm sure we missed a bunch, but this goes to show how amazing it is to spend Christmas in Colorado.
Happy Holidays everyone!
–Your Denver Insurance Team