When it comes to finding the best local providers for a job, many people turn to Expertise.com for guidance. Denver Insurance has recently been honored as the Best Auto Insurance Agency in Denver, Colorado.
This is truly an honor because we strive to be Denver's best auto insurance agency for our members every day
For more than five years, we've been providing personal and commercial insurance products to Colorado residents, with car insurance being one of our specialties. Today, we are one of the most highly-rated insurance agents in the state and take pride in the fact that many of our customers come to us for all their insurance needs. We can quote our customers for the full range of car insurance coverage, including commercial car insurance, fleet insurance, classic car insurance, collectors car insurance, motorcycle insurance, RV insurance, and more. This is one of the many factors that makes us one of the best auto insurance agencies in Denver, Colorado. 
We are humbled to learn how we made it on expertise.com's list of Best Auto Insurance Agents for Denver, Colorado! We know that there are hundreds of insurance agents in Denver, Colorado. Yet, expertise.com selected just 11 companies for their prestigious list, and to be included amongst this prestigious list is just a complete honor! Awards like these, only embolden us to work harder because we know we're making a difference in the lives of our members. That's what being an independent insurance agency is all about.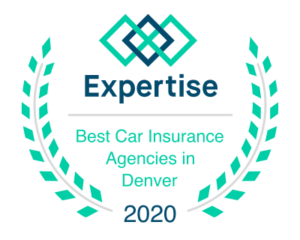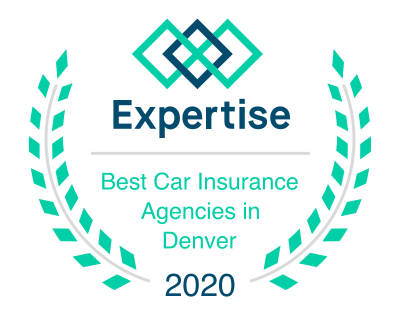 What is expertise.com?
With a wealth of businesses and organizations offering all kinds of products and services in Denver, it comes as no surprise that many people have difficulty finding the best car insurance agent.
Expertise.com is a website that aims to showcase only the best professionals and businesses in a plethora of industries across the United States. They don't just list auto insurance agencies, but all manner of businesses and skilled professionals. They range from accountants to yoga instructors, home appliance repair firms, plumbers, and even tattoo artists!
The website researches the best service professionals across 200 different industries, and they help over ten million people each month select the best providers for their needs. For auto insurance in Colorado, expertise.com chose Denver Insurance LLC as part of its trusted list of providers.
Their selection process grades all possible providers for inclusion based on a few factors: reputation, credibility, experience, engagement, and professionalism. They use a mixture of technology and manual checks to find and verify the providers they feature so that potential customers can rest assured they aren't paying rogue businesses to carry out work or provide services to them.
How Expertise.com rates the best car insurance agencies in Denver, Colorado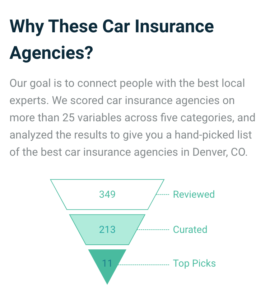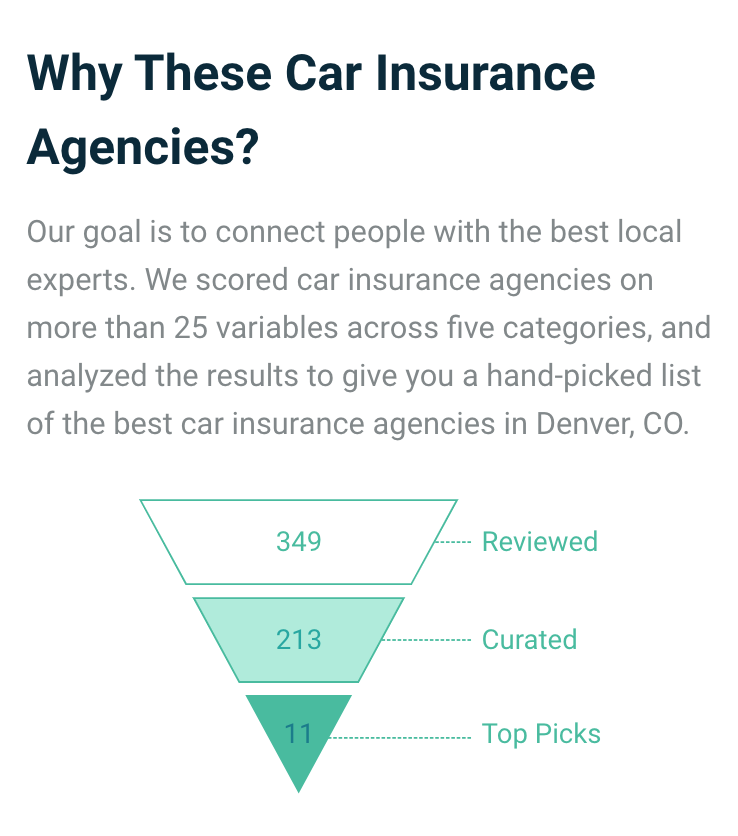 Expertise.com uses 25 variables across five categories that create the selection criteria that rank the best local auto insurance agencies in Denver, Colorado.
The selection criteria are as follows:
Reputation – A history of delighted customers and outstanding service.
Credibility – Customer confidence with licensing, accreditations, and awards.
Experience – Masters of their craft, based on years of practical experience
Availability – Consistently approachable and responsive to customers
Professionalism – Providing service with honesty, reliability, and respect.
Why this award makes Denver Insurance your best choice for auto insurance in Colorado?
One of the reasons Denver Insurance is such a well-known name for auto insurance in the city of Denver and throughout Colorado is due to our flexibility in prices, custom insurance options, and next-level customer service. We've partnered with insurance carriers that provide the best policies in both pricing and protection that are unique to Colorado residents. We know Coloradans face unique risks (such as hail damage) while living in Colorado, so we put together the best policies to meet those risks. 
Our pricing is very transparent. There are no hidden costs to bear when taking out an auto insurance policy through Denver Insurance. We'll even put together a helpful comparison presentation, showing you your options, and comparing our policies with your previous plans. 
To learn more about our personal auto insurance products, visit here.
To learn about our commercial auto insurance and fleet insurance products, visit here.
To learn more about our motorcycle insurance, visit here.
To learn more about our RV insurance, visit here.
If you'd like to try us out and get a quick quote for auto insurance? Just take 60-seconds to provide simple information below and after a quick email confirmation, one of our agents will get started on your car insurance quote.