Coronavirus has affected every element of our lives. It has also made getting life insurance far more important. Life insurance companies have made some key changes during this pandemic to meet your needs. This article will keep you informed on what to do when buying life insurance in the era of COVID-19 and to help you determine if your life insurance covers the Coronavirus.
Due to the CoronaVirus (COVID-19) we live in a more risk-averse society. As Colorado tries to adapt to social distancing and reduce the spread of the virus, we need to consider the importance of buying life insurance to protect our families upon the worst-case scenario (death). I know everyone is quite informed of the added risk of COVID-19, but this virus makes life insurance even more essential for your financial planning.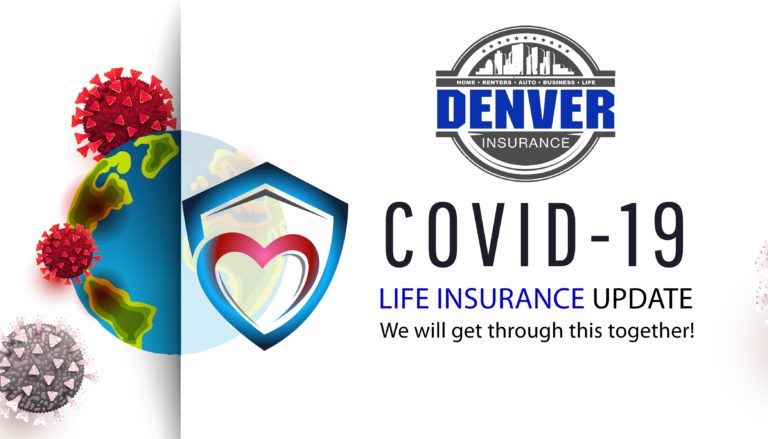 Does Existing Life Insurance Policies Cover Coronavirus (COVID-19) deaths?
In short, YES! In most cases, your existing life insurance policy will cover you if you die from the coronavirus.
However, there may be potential exceptions for denying your claim, more common issues are…
Inaccurate or incomplete life insurance application
You didn't disclose your travel plans
You didn't pay your insurance premiums
You bought the wrong policy
These issues are always a concern upon making a life insurance claim, no matter the cause of death. It's best to check with your life insurance agent to make sure your existing policy covers you and your family if you were to die from the coronavirus.
If you are a Denver Insurance member, these are all issues that you can talk to your Denver Insurance Agent about to make sure your Denver life insurance policy is in good standing. We always work to inform our members of their life insurance coverage and present them with their best options upon purchasing a policy through Denver Insurance.
What you need to know about buying Denver life insurance during the coronavirus pandemic?
You should know that insurance companies are adjusting new life insurance policies for the coronavirus pandemic to better mitigate their risk. With the current mortality rates of the coronavirus in Colorado, it was only a matter of time before life insurance companies in Colorado would catch up to COVID-19.
For example, one of our most popular life insurance partners, Auto-Owners Insurance has adjusted their underwriting guidelines to meet everyone's needs during this time of need, where demand for life insurance is at an unprecedented high.
If you have questions about buying life insurance during the COVID-19 pandemic or looking to buy life insurance FAST? We encourage you to quickly apply for a life insurance quote using this Denver life insurance link and one of our Denver Insurance Agents will personally shop our network of life insurance companies to find you the best life insurance policy that is both affordable and will protect you and your family against the coronavirus through these stressful times.
Need to Talk to a Denver Life Insurance Agent About Getting Life Insurance During this Pandemic? We are prepared for situations like this.
Our agents are trained for scenarios much like this and understand the ins-and-outs of how to get the best life insurance policy to protect you and your family during the CoronaVirus pandemic. We will shop life insurance companies for you to make sure you are covered at the most affordable rate.
Spend 60-seconds to request a life insurance quote in the form below and one of our agents will provide you with your best life insurance coverage options and answers to any questions you might have about purchasing a life insurance policy at this time.
Quick Quote Internal Form