A lot of dedication, hard work, and tireless service has gone into earning this award. Being recognized as one of the top insurance agents in Denver, CO is no small feat.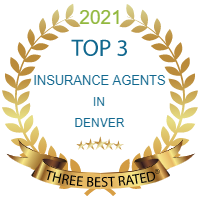 Who Did The Rating?
We know you have a lot of options when it comes to choosing your insurance agent. We are honored that Threebestrated.com has ranked us as one of the top three insurance agencies in Denver, CO.
Three Best Rated has a strict rating process they use to make their list, they also closely monitor Colorado insurance agent reviews to make their assessment as valid as possible.
The Rating Process
To receive this honor, we had to undergo a strict 50-point inspection process conducted by threebestrated.com
The process covers a wide variety of business aspects, and the Denver Insurance team needed to excel at them all to win this award.
To understand more completely how "on-the-ball" we had to be to pass this 50-point test, here are a few of the aspects considered by the judges at threebestrated.com.
Our History
All aspects of our history were taken into account when assessing them for this award. Not only did they need to withstand the test of time in the Denver community, but they also needed to have a stellar history of online reviews, and pass an inspection of ownership history.
Our website was also checked to make sure they are keeping information current and up-to-date. Residents of the Denver area need to know they can get all of their insurance questions answered by visiting the Denver Insurance team's website.
Our Insurance Services
Our services were carefully reviewed by the judges for the award. This wasn't limited to only their insurance services, though.
Naturally, threebestrated.com was interested in the type of insurance services and products we offer. You can't become one of the best insurance agents in Denver, CO without excelling at that.
But Three Best Rated takes it a step further. When considering a business for this award, they will even look at the complementary services offered to customers as well. This could be a free consultation, free inspection, free case study, etc. depending upon your business.
What We Offer to the Colorado Community
In addition to business insurance, we can also offer you some of the most competitive car insurance coverage around. In fact, we've recently been voted the best auto insurance agency in Denver.
We've been offering standard auto coverage, collision coverage, fleet coverage, and commercial auto coverage for over five years. We even offer coverage options for RVs and motorcycles.
With the wide variety of products and coverage options we offer, it's no wonder expertise.com voted us Denver's best car insurance option.
We like to be humble, but we know when we've got a good thing going!
What Makes Us The Best Insurance Agents In Denver, CO
Why choose us? We understand. It's great that we've been recognized by organizations like expertise.com, but what can we do for you?
We're glad you asked.
As mentioned before, our reputation goes to work for you. We're able to leverage our industry knowledge to get you some of the best products available, offered by the best carriers in the space.
Having access to a wide array of coverage options enables us to give you very personalized customer service. Colorado is a beautiful place, but its one-of-a-kind environment poses some unique risks to Coloradans seeking insurance.
Get Started Today with a Quick Quote!
Let us get started on finding you the best insurance coverage possible, today. It doesn't take more than a minute. Simply fill out some basic information for us, and we can get started working on a quote for you and your family.
If you have any other questions regarding your insurance coverage, you can fill out a get a quote form at any time, or feel free to browse our blog for the answers you need.
Get a Quick Insurance Quote Below